Complete Summer Series: Solo Skywars • FREE
REG Complete REG Jun 28 • Jul 21 PLY Complete PLAY Jul 22 • Jul 22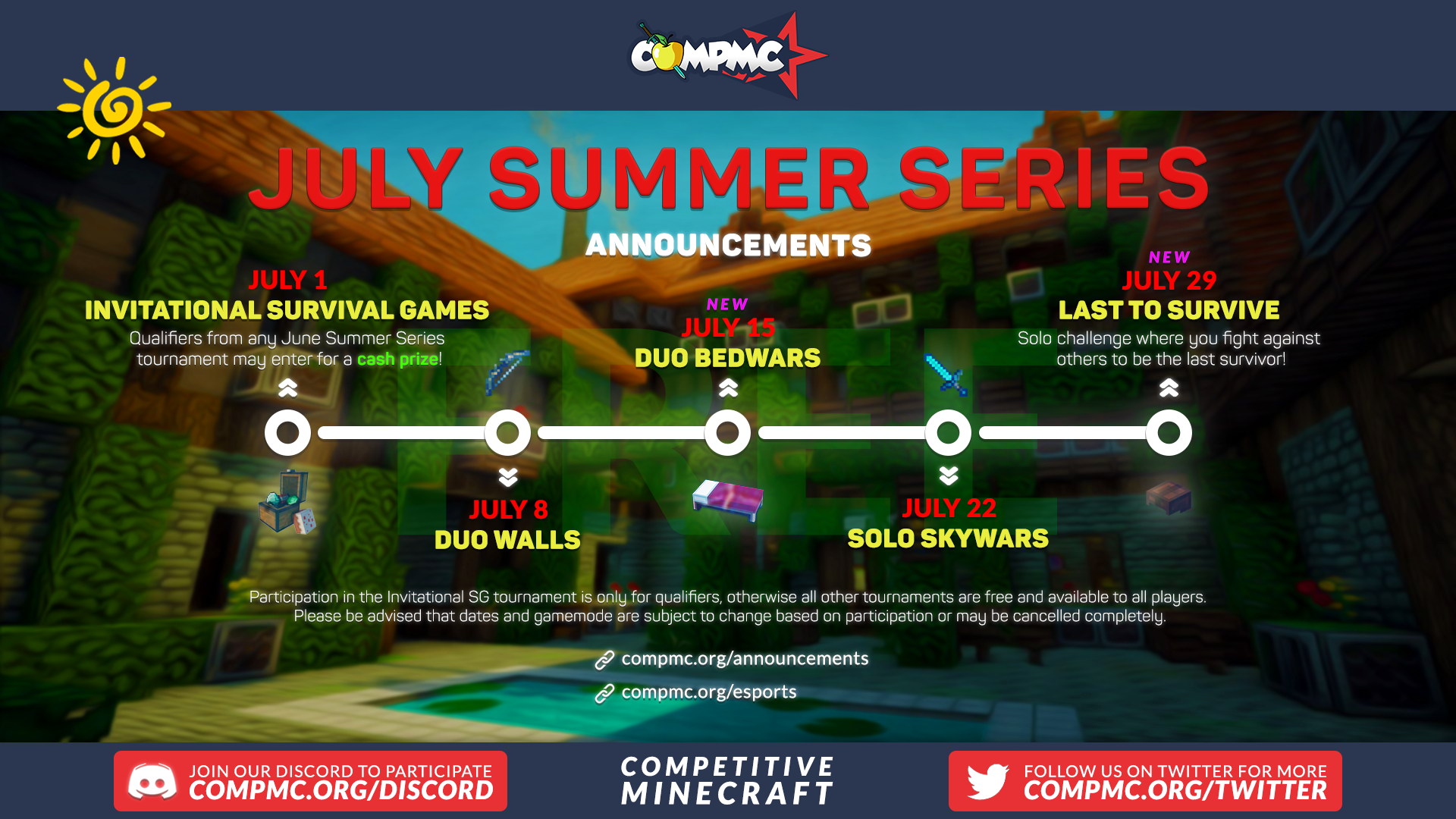 Join us for our second month of Summer Series of events in July! Every Thursday you can sign up to compete in free online tournaments open to everyone! These will feature some of our classic gamemodes such as skywars, capture the wool, survival games, and more. Scoring will be kept and there may be invitational tournaments available later this summer.
Skywars is a multiplayer minigame where each player starts off on a separate island that is floating in the void and tries to battle each other and the last team standing wins. After () minutes, the map will start to decay inwards, so you'll best find yourself heading towards the middle island before you decay with it. The chests refill every (minutes) allowing you to retrieve more bulk loot, and the closer you get to mid, the better the loot you will receive is.

Rules: (in addition to compmc.org/rules)
No Cross teaming
Enderpearl deaths that do not claim a players kill will not be counted in scoring

Time:
All summer series tournaments will be played every week on Thursday at 5:00pm EST. They are estimated to go no longer than 2.5 hours. (Time changes and length subject to change)

Format:
Every player/team will play a total of 4 official matches. The top 8 players/teams after that will then compete in 2 additional rounds for the finals of this tournament. Seeding will be generated randomly.


Points:
1st: 5 points
2nd: 3 points
3rd: 1 point
Each kill: 1 point


Disclaimer:
The Summer Series is an online tournament open to all players, some events will require us to combine signups and teams if they are not at max roster. While we monitor players on our network, please be aware that you may encroach players that attempt to break our organization rules of a PG-Network. All tournaments may be canceled if signups are low.