Active Capture the Wool School League Spring 2023 • $20.00
REG Active REG Jul 15 • Feb 1 PLY Upcoming PLAY Feb 7 • Apr 14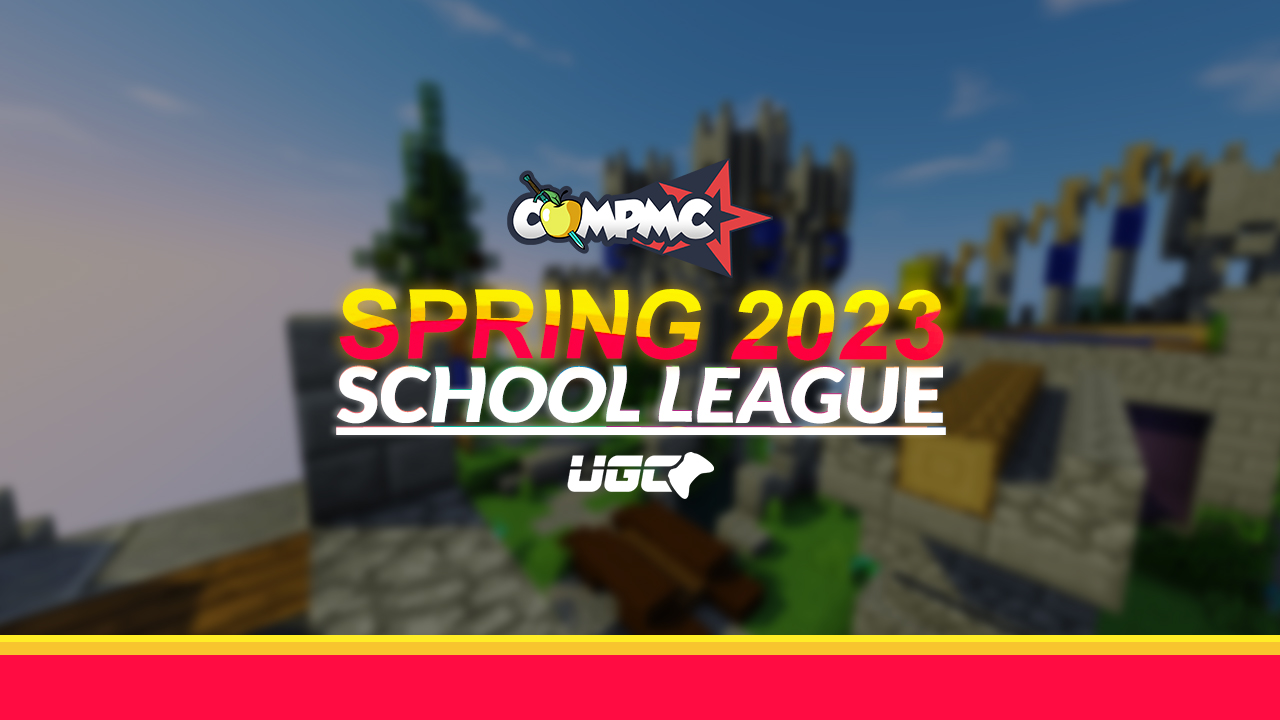 New 2022-2023 Competitive Minecraft Season!
We are excited to announce the continuation of our Minecraft Esport School league! Introducing our Spring 2023 Elementary, Middle, and High School competition! Played on with the Java Edition of Minecraft In a 5v5 format.
Key dates
Tuesday Matches 3:30pm local time
Registration Opens: July 15th
Registration Deadline: February 1st
Last day to submit rosters: February 5th
Regular Season: February 6th-April 14th
Playoffs: TBD
(subject to change)
CompMC School Leagues
Compete against schools and institutions around the world in the CompMC School Leagues! Represent your school by demonstrating mastery of our 5v5 gamemodes and defeating other teams to qualify for the playoffs where your team will have a chance at becoming victors and earning prizes.
What's included in our registration fee?
The registration fee comes with access to all of our coaching materials and a private practice server for your team, which can be used to learn maps and develop strategies. You can also use your practice server to hold scrimmage matches with other teams. The registration fee also helps cover our staffing and server hosting costs, along with going towards the prizes for the top teams at the end of the season. It's a cost of $20.00 for your team for the entire season.
How to play
For the Fall 2022 league, teams will be competing in the exciting gamemode, "Capture the Wool". Teams must defend their wool room whilst trying to steal the opponent's wool and return it safely back to their base, all while facing off against five opponents. Maps are custom made by our level design team and are available for you to practice on whenever your team would like. Teams will each field 5 students to compete in a 8-week league and play 1-2 matches a week in a best out of 3 format. Matches go a maximum of 20 minutes long, so please dedicate at least an hour of match time. (recommended 1.5 hours)
Structure and Format
Teams will be divided into Regional and Affiliate brackets. Each bracket will have a Regular Season and Playoff.
We have 4 team slots available for our West, Central, and East Coast brackets. Brackets are subject to change based on signups. We fill Elementary, Middle, and High School brackets on a first come first serve basis. A bracket may be void if not enough signups are engaged

If all 4 teams in a regional bracket would like to compete on a different day all season than Tuesday, CompMC will do it's best to adjust the master schedule accordingly.

We've provided a detailed weekly schedule below for each phase. Time Zone will be indicated by name for Regional Brackets. All regular-season matches are best of 3 (BO3)
Map Pool:
TBD
8-week Regular Season
Default match time
Tuesday 3:30 pm (local time)
You may reschedule your match any time during the 8 week session. Reschedules must be handled between coaches. It is not CompMC's responsibility to reschedule for you.
Schedule Coming Soon!